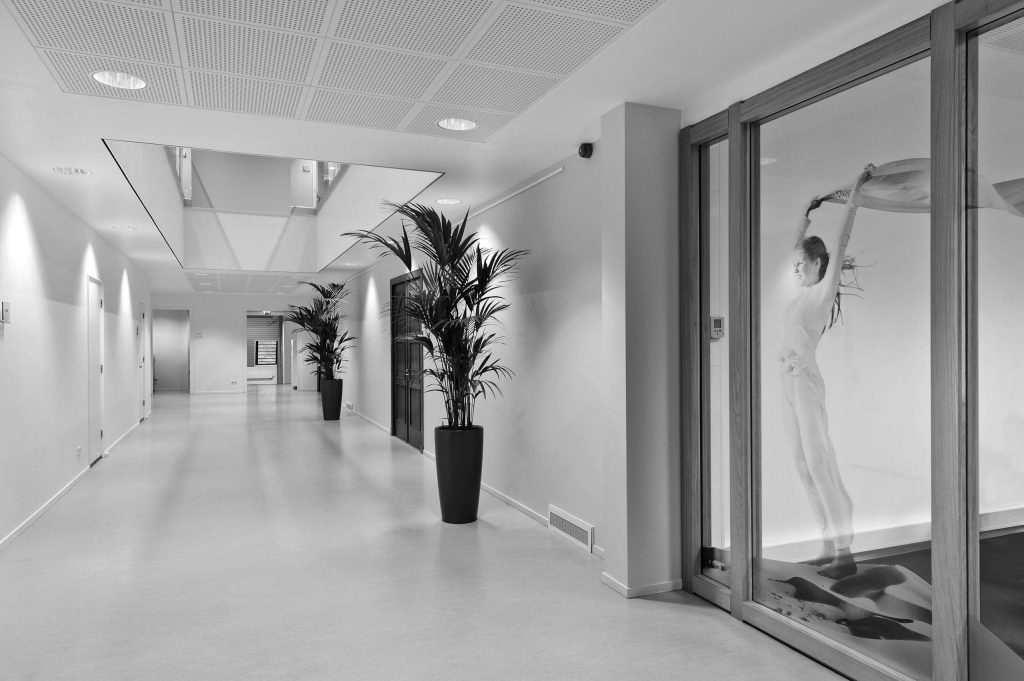 Thea van den Heuvel designs photographic art works for 19th century building.
When Intermetzo, an organisation for specialized youth care, had grown out of its 19th century estate, they asked Archivolt Architecten to renovate the building. Their new design succesfully managed to double they amount of workspaces, making it unnessary for Intermetzo to move. To reduce the transparacy of the new interior, they sought the help of DAPh member Thea van den Heuvel, who designed a photographic art work for the glass walls.
Sustainability and respect for the old building were two important desing elements. The building has been made more sustainable by improving the isolation, by the use of solar panels and a clever hybrid ventilationsystem with the option of using the earth to warm or cool the building. Respect for the building meant stripping it of a lot of clutter that had accumulated in decades of usage. Archivolt then designed an interior for the new found space with wooden frames and glass walls. The new interior allowed for more light to enter the building and doubled the workspaces from 60 to 120. At the same time, Archivolt knew that the transparancy of the interior might cause some anxiety with some of the workers or visitors. To reduce it, Thea van den Heuvel was asked to design art work to decorate some of the glass walls.
She started with listening to clients of Intermetzo, young people who often had been through hard times. They sometimes described what they had been through as 'tegenwind', a Dutch way of saying you have to battle strong headwinds to get were you want to go. But wind is also something you can play with and use to your advantage. These two elements: youth and wind, formed the basis for her artworks. Thea assembled a team, consisting of a printspecialist, a postproduction specialist and artist and communicationsexpert Ursi Hondtong. A dozen young people were scouted at a local judoclub to act as models. For the images, they were all wearing white clothes, symbolizing positivity and a new phase in life. Wind machines gave them the opportunity to literally play with the wind, wearing hats, umbrella's or hanging from ropes. In the end, Thea selected 16 images to be used on two floors in the building. Images of fine Morrocan desert sand were used to give the models a base. Everything was carefully measured, printed and cut to fit perfectly in the building and to really make the models float, everything was printed on an extremely clear foil that had never been used in the Netherlands.
Thea: "The employees are very proud of the images. They really feel that they represent their young clients. And at the same time they feel energized by them and they make the building an even nicer place to work in."
Photographer: Thea van den Heuvel / DAPh
Project: Intermetzo
Architect: Archivolt Architecten
Back